Jessica Brandt Raises Most Funds in Nation for Susan G. Komen Foundation
Metairie, LA:  Jessica Brandt, CEO of the Ray Brandt Auto Group and President of the Ray and Jessica Brandt Family Foundation, has raised the most funds nationally for the Susan G. Komen Foundation. Her individual and team donations have been instrumental in advancing research to prevent and cure breast cancer, which is the mission of the Susan G. Komen Foundation.
Mrs. Brandt formed her team It's All About Mary Ellen! several years ago to honor her sister, Mary Ellen Scifo. "Seeing my sister battle breast cancer was awful. I knew back then that I had to do everything possible to help the Susan G. Komen Foundation accomplish its mission and find a cure."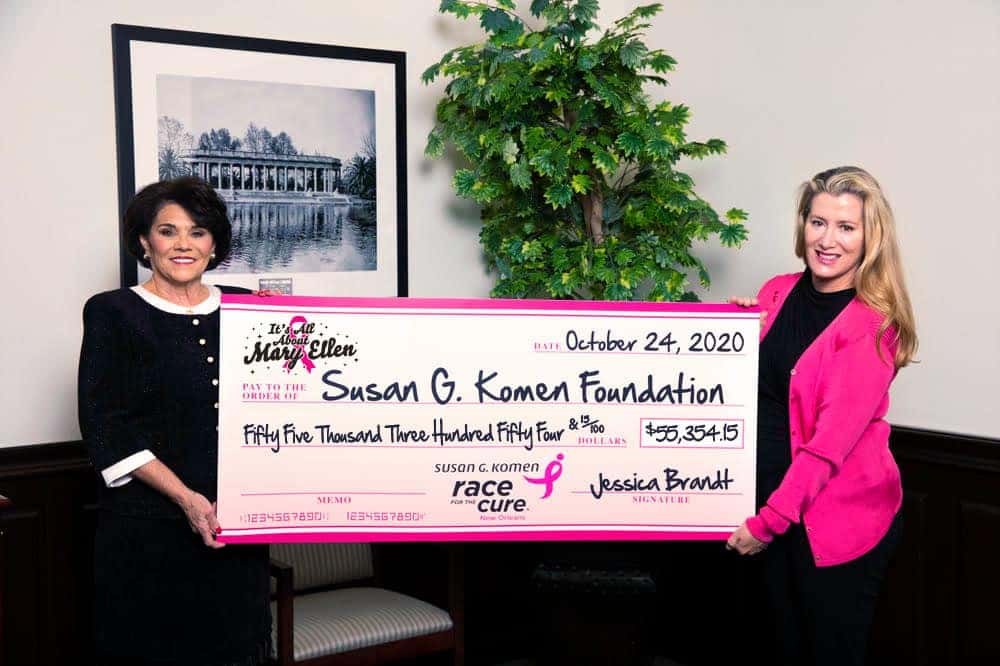 Lisa Plunkett, Komen New Orleans Executive Director, acknowledged and thanked Brandt for her generosity, stating "Thank you to Jessica Brandt and the It's All About Mary Ellen! team for raising the most fundraising dollars this year in the entire national Komen Race Series. The team's support means everything to us and continues the legacy of support in memory of Jessica's beloved sister Mary Ellen and Ray's mother who lost their lives to breast cancer." 
Paula Schneider, the CEO, Susan G. Komen, also praised Brandt, "Thanks to the continued passion and generosity of Jessica Brandt and the entire Ray Brandt Auto Group team, we will be able to continue investing in breakthrough research while ensuring that people facing breast cancer today are able to get the care they need. We couldn't be more grateful."
When asked about her achievement, Brandt said, "It is my pleasure to join this passionate community in the fight against breast cancer. As one who has seen the pain and suffering this disease can cause, it is immensely important to take action and advocate for meaningful change."
About the Susan G. Komen Foundation:  Since 1982, the Susan G. Komen Foundation has funded more than $988 million in research, more than $2.2 billion in education, screening and treatment, serving millions in over 60 countries worldwide. One of their top priorities is educating women on what they can do to be proactive with their breast health. Their unique combination of science, education, and direct help to people facing breast cancer has helped lead to a 40% decline in mortality from 1989-2016. Their goal is to reduce the number of breast cancer deaths to 50% in the United States by 2026.
About Jessica Brandt:  Since becoming CEO of the Ray Brandt Auto Group after the loss of her husband and company founder, Raymond J. Brandt, Jessica has been a critical component of the continued success of one of the largest auto dealers on the Gulf Coast.  A native New Orleanian, she and her husband, founded the Ray and Jessica Brandt Family Foundation, supporting local educational institutions. Jessica's philanthropic leadership includes fundraisers for schools in the Archdiocese of New Orleans and the American Heart Association, in addition to supporting the Susan G. Komen foundation. She has also been a significant supporter of the LCMC Children's Hospital. She currently serves as a member of the Advisory Board for POWER with Fidelity Bank, the New Orleans UNCF Advisory Committee, and the City Park Improvement Association Governing Board.  She was named a Driving Force by City Business magazine.
About the Ray Brandt Family of Businesses:  The Ray Brandt Auto Group was founded by Ray Brandt in 1983 on the Westbank of New Orleans with a single Datsun dealership.  Today, the Ray Brant Auto Group boasts 13 dealerships across Louisiana and Mississippi along with 6 collision centers to be a complete, one-stop-shop for all automotive needs.  Manufacturers represented in the Ray Brandt Auto Group include Mercedes Benz, Porsche, INFINITI, Genesis, Toyota, Nissan, Volkswagen, KIA, Hyundai, Chrysler, Dodge, Jeep, Ram, and Chevrolet. Customers have always been the Ray Brandt Auto Group's primary focus, which is why it has earned prestigious awards such as the INFINITI Owner First Award of Excellence, Toyota's President's Award, and "Best of the Best" from Mercedes-Benz. The Ray Brandt Auto Group also topped the New Orleans City Business Top Automotive Dealers list and is one of the Top 10 private companies in the metro New Orleans area.  Ray continued growing the business until two days before his death when he purchased Pascal's Manale Restaurant, a New Orleans dining institution since 1913.