Raising Awareness about Pancreatic Cancer
"Pancreatic Cancer is such a terrible disease to watch anyone suffer through, as I did, with my dear husband, Ray. Early detection would have made a world of a difference to him and so many others who succumbed to it and lost their battles with cancer. By bringing awareness, I hope to spare other families and victims from such loss." Jessica Brandt, CEO
-November is Pancreatic Cancer Awareness Month!
-Early detection saves lives!
-Help raise awareness about Pancreatic Cancer!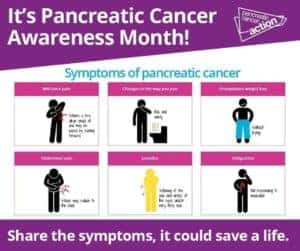 Pancreatic cancer is not choosey with whom it targets! Whoever you are, regardless of your age, ethnicity, gender, and spoken language, you could be affected. That is why it is so important to come together and spread awareness!
Pancreatic cancer kills more than 300,000 people every year. Only 10 – 15% of diagnoses are made during the first stage when the cure rate is above 70%. Over half of all diagnoses are made only after the disease has already reached its most advanced stage. When cancer is diagnosed in its earliest stages, the extent of damage is limited, and more treatment options are available.
Because the Ray Brandt Auto Group is committed to giving back to the community, we presented the Cancer Association of Greater New Orleans' Pancreatic Cancer Awareness campaign with a $10,000 donation. Pancreatic cancer is a devastating disease, and we hope this campaign will help raise awareness and funds for research. We are grateful to Tammy Swindle, Executive Director, for her dedication to this cause and her work in the fight against cancer. We are committed to supporting our community and hope that our donation will make a difference in the fight against cancer.