Jessica Brandt Donates $10,000 to DHS Food Drive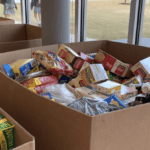 Mrs. Brandt donated $10,000 toward the St. Mary's Dominican Annual Food Drive for Second Harvest!
"The annual Dominican food drive helps to feed thousands of hungry in our community every year. And the wonderful $10,000 monetary donation will help feed 40,000 people as well," said Second Harvest President & CEO Natalie Jayroe.
Read more here!
---
February 4, 2022