JESSICA BRANDT, CEO, JOINS THE LCMC CHILDREN'S HOSPITAL NEW ORLEANS BOARD OF TRUSTEES
New Orleans, LA:  Jessica Brandt, CEO of the Ray Brandt Auto Group and President of the Ray and Jessica Brandt Family Foundation, has been selected to join the LCMC Children's Hospital Board of Trustees.
Brandt was welcomed onto the board by Dr. Stephen Hales, MD, Chairman of the Board of Trustees for the LCMC Children's Hospital New Orleans. Hales said, "We are thrilled to add Jessica Brandt, CEO of the Ray Brandt Auto Group, to the LCMC Children's Hospital New Orleans Board of Trustees. Jessica has served the New Orleans community in business and philanthropic capacities for many years. She will bring her expertise and energy to help lead Children's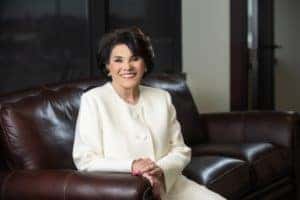 Hospital in our vital mission to serve the children of Louisiana and the Gulf South. We are appreciative of Jessica and her late husband, Ray's generous support of Children's Hospital."
Jessica Brandt is someone who understands that love and compassion are what makes philanthropy work and, she is committed to achieving the change she wants to see in the world through her philanthropic efforts. Serving the children of New Orleans and the Gulf South is certainly something she is passionate about. Brandt said, "Joining the board means that I can contribute to the well-being of the children in my community and the world at large. I will devote my time and talents to the mission of the LCMC Children's Hospital New Orleans."
About Children's Hospital New Orleans: Children's Hospital New Orleans is a 222-bed, non-profit academic pediatric medical center that offers comprehensive healthcare services, including over 40 pediatric specialties, delivered just for children. With more than 400 physicians trained in more than 40 pediatric sub-specialties, Children's offers a comprehensive array of pediatric healthcare services in Louisiana and the Gulf South. In addition to its main campus in New Orleans, the Hospital operates a network of specialty clinics across Louisiana and Southern Mississippi, including in Covington, Baton Rouge, and Lafayette. Children's Hospital offers primary care services at 14 convenient locations throughout Southeast Louisiana and remotely via its Virtual Care for Kids program. Children's Hospital is a proud member of LCMC Health, a Louisiana-based, not-for-profit hospital system that also includes New Orleans East Hospital, Touro, University Medical Center New Orleans, West Jefferson Medical Center, and East Jefferson General Hospital. Learn more at chnola.org.
About Jessica Brandt:  Since becoming CEO of the Ray Brandt Auto Group after the loss of her husband and company founder, Raymond J. Brandt, Jessica has been a critical component of the continued growth and success of one of the largest auto dealers on the Gulf Coast. A native New Orleanian, she and her husband founded the Ray and Jessica Brandt Family Foundation, supporting local educational institutions. Jessica's philanthropic leadership includes fundraisers for schools in the Archdiocese of New Orleans and the American Heart Association. She also supports the Susan G. Komen foundation and was recognized for raising the most funds nationally for the Susan G. Komen Foundation in 2020. She currently serves as a member of the Advisory Board for POWER with Fidelity Bank, the New Orleans UNCF Advisory Committee, and the City Park Improvement Association Governing Board. She was named a Driving Force by City Business magazine in 2020.
About the Ray Brandt Family of Businesses:  The Ray Brandt Auto Group was founded by Ray Brandt in 1983 on the Westbank of New Orleans with a single Datsun dealership. Today, the Ray Brant Auto Group boasts 13 dealerships across Louisiana and Mississippi along with 6 collision centers to be a complete, one-stop-shop for all automotive needs. Manufacturers represented in the Ray Brandt Auto Group include Mercedes Benz, Porsche, INFINITI, Genesis, Toyota, Nissan, Volkswagen, KIA, Hyundai, Chrysler, Dodge, Jeep, Ram, and Chevrolet. Customers have always been the Ray Brandt Auto Group's primary focus, which is why it has earned prestigious awards such as the INFINITI Owner First Award of Excellence, Toyota's President's Award, and "Best of the Best" from Mercedes-Benz. The Ray Brandt Auto Group also topped the New Orleans City Business Top Automotive Dealers list and is one of the Top 10 private companies in the metro New Orleans area. Ray continued growing the business until two days before his death when he purchased Pascal's Manale Restaurant, a New Orleans dining institution since 1913.