Chair of New Orleans Heart Ball, Jessica Brandt Fights for Healthier, Longer Lives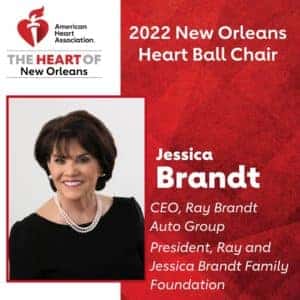 As the world faces another surge in illness brought on by the pandemic, the American Heart Association (AHA), with the support of Jessica Brandt, is actively fighting to help people live longer, healthier, and fuller lives. A relentless force for health, the AHA is proud to have a like-minded ally in Brandt, who has been a steady champion for the organization.
            "As one who has seen the pain and suffering heart disease can cause, I feel it is immensely important to take action and advocate for meaningful change," says Jessica Brandt, CEO of Ray Brandt Auto Group and President of the Ray & Jessica Brandt Family Foundation. "It is my pleasure to join this passionate community in the fight against cardiovascular disease."
            A longtime volunteer with the AHA, Brandt will serve as chair of the 2022 New Orleans Heart Ball, scheduled for June 11, 2022, at the Hyatt Regency New Orleans. This will mark Brandt's third time serving as chair, raising more than $644,000 in support of the AHA's critical mission. As the 2022 chair, Brandt will lead a year-long campaign that culminates with the annual ball.
            "We are humbled and honored that she has chosen to support us in this way once more," says Brittany Gay, Executive Director of the American Heart Association of Greater New Orleans. "In the role of Heart Ball Chair, Mrs. Brandt will work diligently with community members and executive leaders to support the New Orleans Heart Ball as an advocate for the AHA in the fight to prevent heart disease and stroke in the Greater New Orleans area."
            According to Brandt, meeting and hearing the stories of local heart survivors at previous Heart Balls inspires her continued support of the AHA, whose work is particularly meaningful in a city like New Orleans.
"Healthy food access and affordability, complete streets, including safe places to be active, and nutrition security are some of our greatest needs here in and around New Orleans," says Gay. "Communities need us now more than ever, and our community's support of our mission has never been more important."
Data from the AHA shows that Americans are currently feeling overwhelmed and stressed, which negatively impacts their cardiovascular health. As stress from the fallout of the pandemic amplifies these conditions, people become more at risk for heart disease and stroke, the nation's no. 1 and no. 5 killers, respectively.
            Donations toward the AHA and the 2022 New Orleans Heart Ball will allow the organization to continue fighting these conditions and do its life-changing work, which funds rigorous and dependable scientific research, supports frontline healthcare workers, and helps those in communities disproportionately impacted by coronavirus, heart disease, and stroke. Additionally, donations fund a variety of initiatives addressing social inequities and barriers to health care and provide critical resources to schools and companies working to improve health and well-being.
Brandt looks forward to celebrating the success of these endeavors at the 2022 New Orleans Heart Ball, which will feature live music, dancing, a live and silent auction, and inspirational stories from local heart survivors.
            "I know that by myself, I can only do so much," says Brandt. "But imagine having a bigger group of individuals all with the same desire to help and to make a change in this world—that would make such a greater and stronger impact. That is why I choose to support the American Heart Association."
            In addition to encouraging others to take action on their own heart health through managing blood pressure and cholesterol, getting active, and adopting a heart-healthy diet, Brandt also encourages others to show their support for the 2022 Heart Ball. Support can be given through the event website at neworleansheartball.heart.org, by making a donation towards the AHA's life-saving mission, by purchasing a ticket or sponsor package for the Heart Ball event on June 11, or by participating in the event auction, which will feature luxury vacation packages, one-of-a-kind jewelry pieces, and exciting experiences.
            "Through the help of people like Mrs. Brandt and our sponsors and volunteers throughout Greater New Orleans, we're able to provide lifesaving resources and information to approximately 600,000 people each year, if not more," says Gay.
            To learn more about the AHA, its initiatives, and upcoming events like the New Orleans Heart Ball, visit heart.org.
---
January 6, 2022