Supporting Local Schools and Students with $10,000 Donation
As the new school year begins, we are reminded of how fortunate we are to live in a community that values EDUCATION. We are confident that this will be another great year for our students.
We believe in giving back to the community that has supported us for so many years. That's why we were thrilled to participate in WDSU News' School Supply Drive. "We want to make it easy for our children to go back to school!" said Jessica Brandt, CEO.
We donated $10,000 because we believe it's important for us to do our part in supporting local schools and making sure that every child has the resources they need to succeed.
We are so proud to be able to support our community in this way, and we will continue to give back. Thank you to everyone who supported
WDSU News
' School Supply Drive. Every little bit makes a difference! We couldn't do it without you.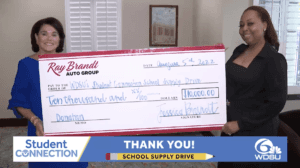 August 5, 2022